In Memory
David Samorano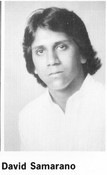 Deceased Classmate: David Samarano
Classmate City: Tucson
Classmate State: AZ


David was a friend since way back in elementary school. He was my cousin's cousin and so we always called each other "cousin," although we were not blood related. He was a lot of fun to be around, very outgoing and passionate about life. He was never afraid to be himself. I'll always remember his beautiful eyes and wonderful laugh! - Cathy Rivera Roche.